This is a blog post about hair. It may seem like a frivolous topic to you, unless you're a chick. But I honest to God have to chronicle my hair journeys because if I don't I will forget every mistake I made within six months and do it to myself again.
I might have a problem.
If you enjoy hair sagas, and want to hear the story of how my hair was six different colors in one month, read on. If you don't, maybe skip this.
In the past year I have made one major hair mistake and done several awesome hair things. But first: the mistake.
Henna
is a natural red dye that doesn't fade. (Yes, really.) But it turns out that henna's permanence has a dark side - literally. It's basically impossible to get rid of it.I applied henna over henna instead of just doing my roots. This created two problems: one, my hair got darker than I wanted. Add a spoonful of coffee to a cup to make a weak solution; add another spoonful and it gets stronger and darker; and so on. I added henna over henna over henna for two or three years, and the results got too dark and harsh for my fair complexion. My hair started out a gorgeous medium auburn and ended up a dark mahogany color that didn't suit me or make me happy.
One of my favorite henna before/afters. Isn't this chick's hair fantastic?
Anyway, I wanted it gone. A color remover did not work, even after two applications on test areas. I was going to have to bleach.
Luckily, I had put no products on my hair for months besides Monat. I'm pretty sure the combination of Monat products and a product called Olaplex are the reason why I still have (reasonably healthy) hair on my head.
First, the Monat. In the interest of full disclosure my friend Sara gave me some product to try out in return for my honest feedback. She had not been selling it for long and wanted to build her business and see how good it really was on people who would keep it real with her. That was several months ago and I just now ran out of Monat. It is pricey, but it takes just a little and lasts a long, long time.
Also, on top of the dazzling effects of henna, the all-natural Monat shampoo and conditioner made my hair completely glorious. I've suffered from an autoimmune disorder called Hashimoto's Disease since I was in my late teens that has made a lot of my hair fall out, so I'm hyper-aware of my hair and I want it in the best condition possible. No products besides henna and Monat have done more for my hair.
Not everyone can afford Monat. If you can afford it, get it. If you have damaged or problem hair that you feel like nothing will fix, find a way to get it if you possibly can. This stuff made my hair light and bouncy yet so shiny it was blinding, and so soft that I could not stop touching it and running my fingers through it. It also has a fragrance that reminds me of roses but isn't quite roses. You'll fall in love with the smell, yet there are no added scents. It's just the actual smell of the natural ingredients.
I haven't used anything with sulfates or parabens for a while, but I've never used anything as natural as Monat. I used to kind of roll my eyes at all-natural stuff but Monat made me a believer.
If you want to buy some or find out how to do a work-from-home business thingy selling it,
click here
.
There are tons of Monat before/afters online. To be honest, I did not experience hair regrowth, but a lot of people do. I did, however, experience crazy health and shine like this.
As for henna, well, I have written about my henna experiences before, and I stand by every single thing I ever said about henna. In case you don't want to go back and
read all about it
, let me recap: henna is amazing. It gives you think, luscious, glossy, heavy hair. It is inexpensive compared to most color treatments. And it's a red that doesn't fade.
Doesn't fade, and doesn't come out.
So I bleached. Twice. In one day. I had not put actual hair dye - just crushed henna leaves in a paste - on my hair in years. But I needed to either bleach or wait years for my natural hair to grow out, all the while being a two-tone truck. It was gonna have to be bleach.
I ordered Olaplex off Amazon and I'm convinced that plus the months of only Monat and henna saved my hair. It was still kind of damaged, of course, but not as bad as it would have been.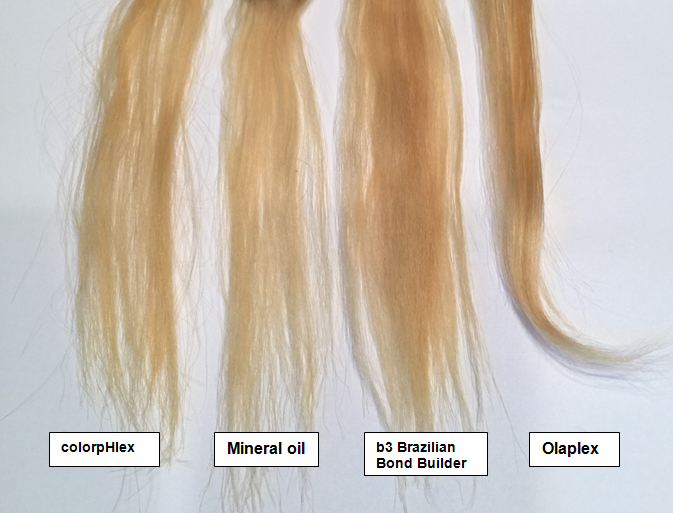 I can vouch for the miracle of Olaplex, firsthand.
And yet it remained orange. Desperate, I dumped purple dye on it. I had to be on a plane to NYC the next morning, and I looked like Raggedy Ann on crack. So I went blackity-purple, and I kept reapplying purple (which faded to magenta on a weekly basis) for a few weeks because (a) I needed to plot my next move, and (b) I had to travel and be in public attending events and speaking so I had no time for a hair overhaul.
I did, however, give myself a long pixie cut because my ends were damaged and I couldn't handle it. I just stood at the bathroom mirror with some craft scissors and went to town. Luckily it turned out great, but your mileage may vary.
Finally I let the purpley-pink fade for a few weeks. My goal was to get as much of the Manic Panic out as possible, to take it down to the bleached-out base so I could dye over it. By the time I did, my hair was - in the words of my six-year-old niece - "cray-cray." My light brown roots were coming in. The back of my hair was light orange. The top was pale pink. There were lavender patches on the sides, and the very front was still purple.
It was starting to fade here (that's me on the right) but it got way worse.
The product I chose to try to unify all this nonsense into one solid, non-terrible color was Ion Color Brilliance in a PDD-free permanent liquid color. I chose a level 7 Medium Copper Blonde, ordered from Amazon. I did a test strand and was shocked to see that it turned my purple-pink-orange hair the exact color that was on the swatch. I took the plunge and did my whole head, and was amazed. It covered everything, and the color is a natural-looking ginger blonde that would be right at home in the Weasley household.
Not a stunning photo, but you get the idea.
Now, I have a coppery pixie cut that suits me fine. I don't know what I'll do next. My goal was to get down to my natural hair color, and either lighten a shade or two with PPD-free color to a medium blonde, or do henna again, but only dye the regrowth after the first application. However, I might like this copper blonde. I've never had this exact color before, and it's a good compromise between red and blonde, the two colors that have always called to me.
Now you know my hair saga. Learn from my mistakes and my triumphs.